John L McClellan High School
Class Of 1971
In Memory
Janet Waymire (Greenwood)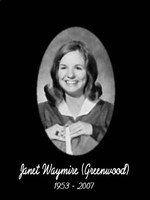 Janet Lee Greenwood, 54, of Little Rock passed away on November 28, 2007 after a heroic battle with cancer. Janet was born July 31, 1953 in Little Rock, Arkansas, where she remained most of her life. She was a vivacious, independent, strong-willed woman, who loved family, nursing and travel. She was a nurse for 34 years, working for Baptist Hospital, Arkansas Neurological Surgery Associates, Arkansas Children's Hospital and UAMS. She loved her final position with the regional Pediatric Cardiology clinic, where she traveled Arkansas helping bring pediatric cardiology resources to communities across the state.
Caregiver, daughter, sister, wife, mother, counselor and devoted friend to those she loved, Janet volunteered in the church, the school, and the community, mentoring students and performing scoliosis screenings in the schools. She was always known for her willingness to help others. Janet shared a wonderfule life with her husband, David Greenwood, the love of her life. She had a strong sense of family, and she enjoyed being around those she loved.
She is survived by her husband of 34 years, David Greenwood; her children, Sarah and Matthew Greenwood; her father, Floyd Jerrel Waymire; her mother, Deloris Waymire; her brother, Steve Waymire; and a host of aunts, uncles, nieces and nephews. To recount her friends and loved ones would be an impossible task. Janet's sense of humor, quick wit, and words of advice will be greatly missed by all who knew and loved her.
07/31/1953 - 11/28/2007